Since its introduction in 2014, the Redmi Note series has been known for its high-quality features, affordable pricing, and exceptional performance. The series includes a range of devices, each with unique features and specifications.
Xiaomi just unveiled the Redmi Note 12, Redmi Note 12 Pro, and Redmi Note 12 Pro Plus, the most recent models in the Redmi Note series. These devices are all 5G-capable smartphones. This is one of their iterations, the redmi note 12 Pro 5G, and we are here to talk about what it has to offer and if it is a competitive smartphone in today's market.
DESIGN & BUILD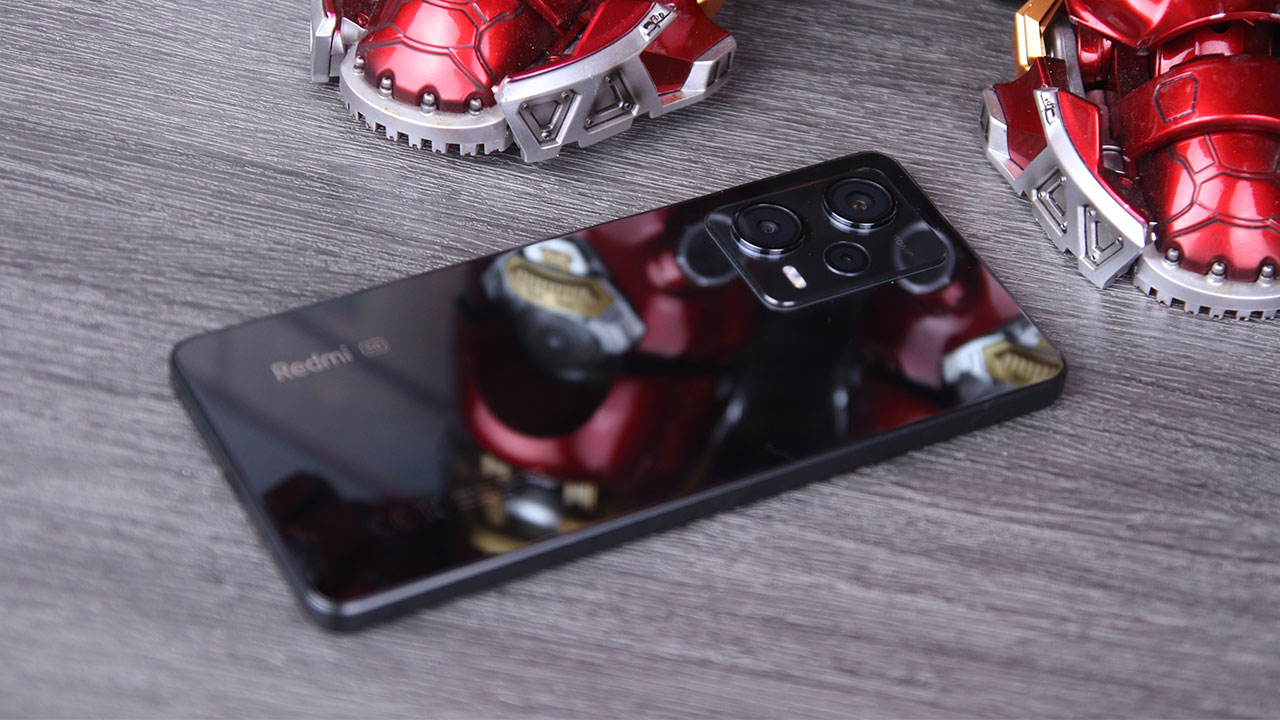 The Redmi Note 12 Pro has a simple but premium-looking vibe. It carries the generic apple design with a boxy shape and a glasstic back panel. Sure, it's not as premium-feeling as glass, but the soft-touch plastic is comfortable to hold, not to mention the fact that it's more durable. Without the case, it is a bit slippery, so we suggest you put on the jelly case that it comes with to avoid scratches.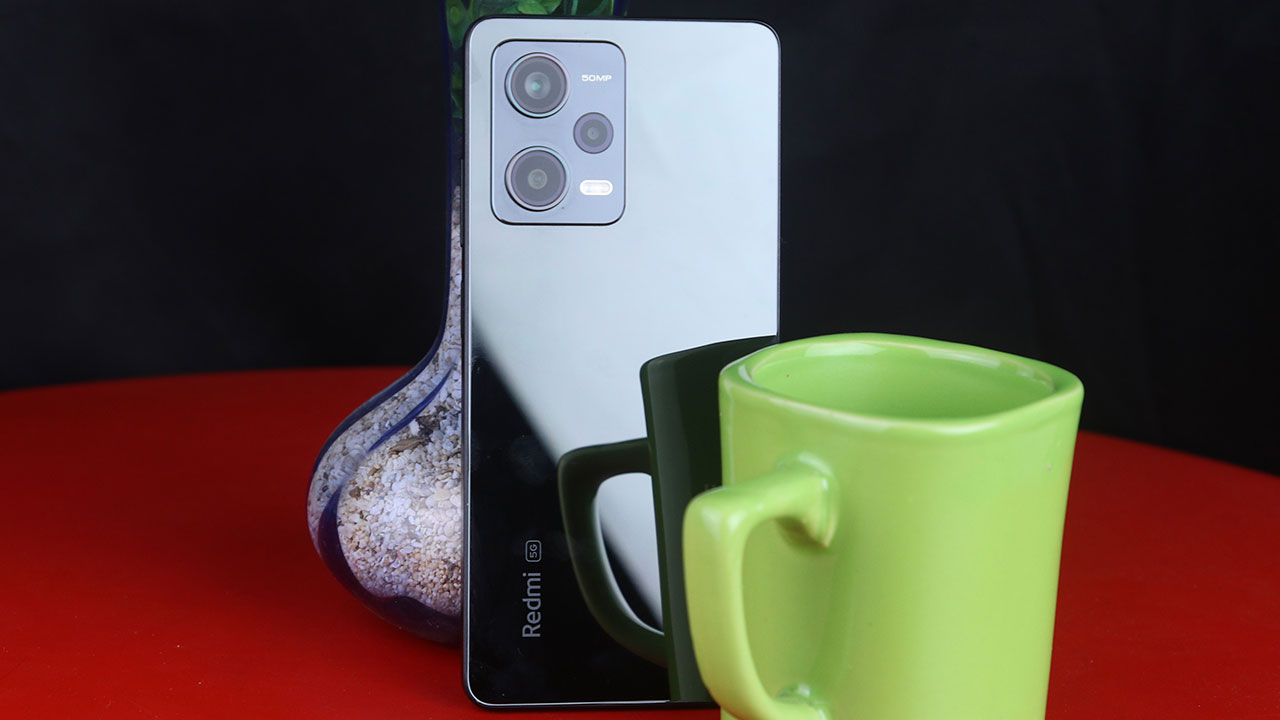 It is also prone to fingerprint smudges because of the glossy finish that it offers. Because there is no top protection for the glass back, dropping it unintentionally could cause it to break. It weighs about 187g and has an 8mm thickness.
This slideshow requires JavaScript.
Around its frame, It boasts two speakers at the top and bottom, an IR blaster, a headphone jack, and a fingerprint scanner built into the power button. It can withstand occasional water splashes from rain and spills thanks to its IP53 dust and splash resistance. However, we do not recommend submerging it in water since it is not IP68 rated.
DISPLAY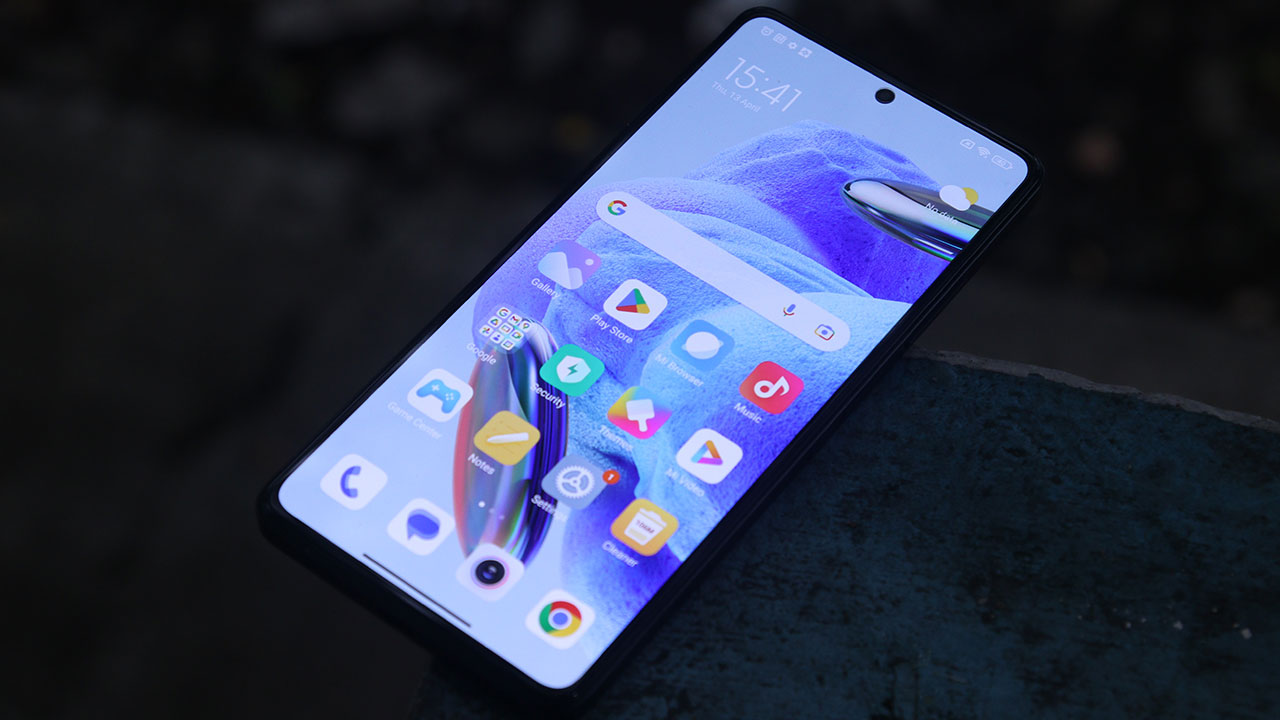 Moving forward to its display, it boasts an FHD+ Flow AMOLED panel paired with a 120Hz refresh rate. It has support for Dolby Vision, and HDR 10+, and all of those are protected by a Corning Gorilla Glass 5. 
Regarding the quality, the display is sharp, has vibrant colors, deep blacks, and good viewing angles. It is bright enough to be seen outside. But, I want you to know that if we were to compare the smartphone to flagship devices, they often employ a higher display resolution, making their brightness and quality fairly unmatched. Yet, in comparison to other products in the same price range, the blacks are deep and the colors are vivid, so it will still feel high-end due to the smoothness of the 120Hz. A pretty respectable cost, in my opinion.
CAMERA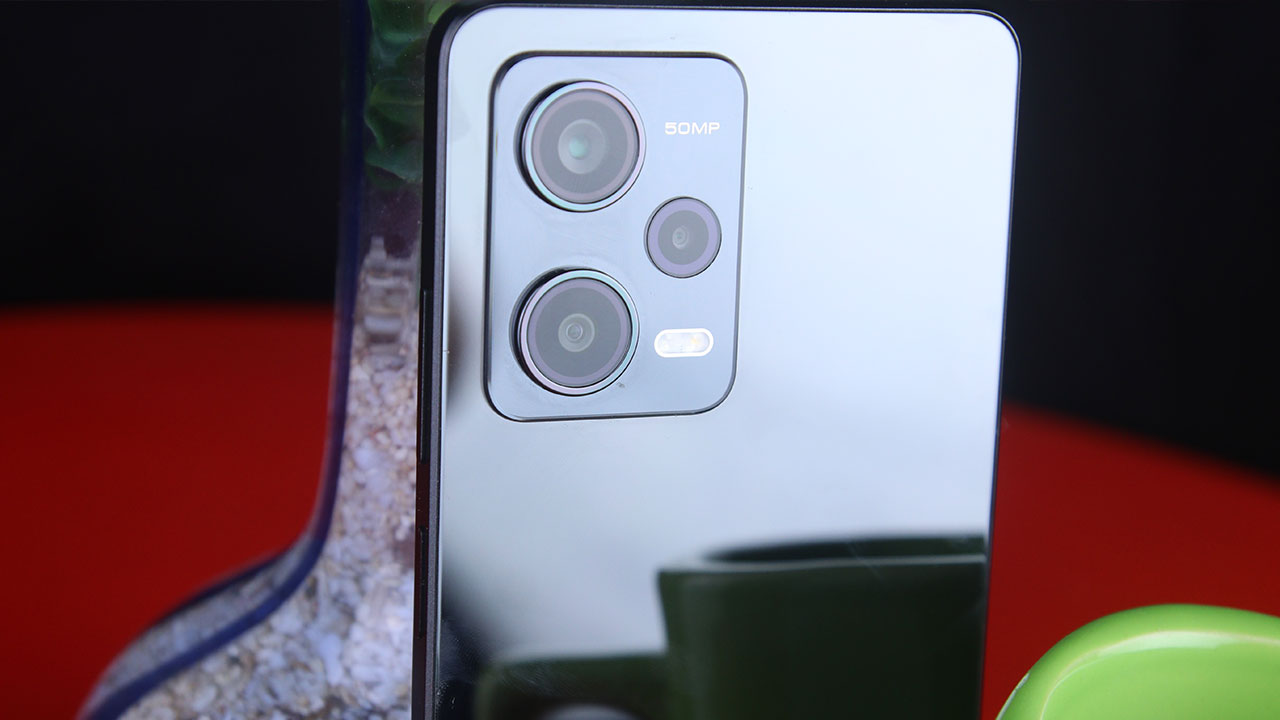 Heading to its cameras, the Redmi Note 12 Pro is equipped with a triple camera setup that houses a 50MP main shooter, 8MP ultrawide, 2MP macro, and 16MP front-facing shooter. The camera module on the back is quite protruding so putting the device on a flat surface will surely wobble. The 50MP packs a Sony IMX766 1/1.56″ sensor equipped with a Quad-Bayer filter. It also carries a 24mm lens that has an OIS and an aperture of 1.88.
This slideshow requires JavaScript.
The output of the 50MP main cam is bright and has vibrant and sharp colors. However, there are times when shadows and blacks are deep therefore it loses some of its details in the background. As you can see in the sample image, there are times that the weather is bad due to the typhoon, but it still manages to deliver a crisp color reproduction.
This slideshow requires JavaScript.
As for low-light photography, using its night mode is quite impressive. It enhances the lighting and shoots a more cinematic image. Capturing night mode takes about 2 to 3 seconds before it processes your image so make sure to stay still to avoid blurry outputs.
This slideshow requires JavaScript.
As for its ultrawide, it has good color reproduction as well, sharp and detailed, however, it still suffers the same deep shadows and deep blacks. Despite the weather, the exposure is quite a balance.
This slideshow requires JavaScript.
Moving to its selfie cameras, the 16MP selfie camera shoots good-quality images. It delivers a natural skin tone and an impressive color palette for its background. However, when taking photos with the sky as your background, outputs tend to get overexposed.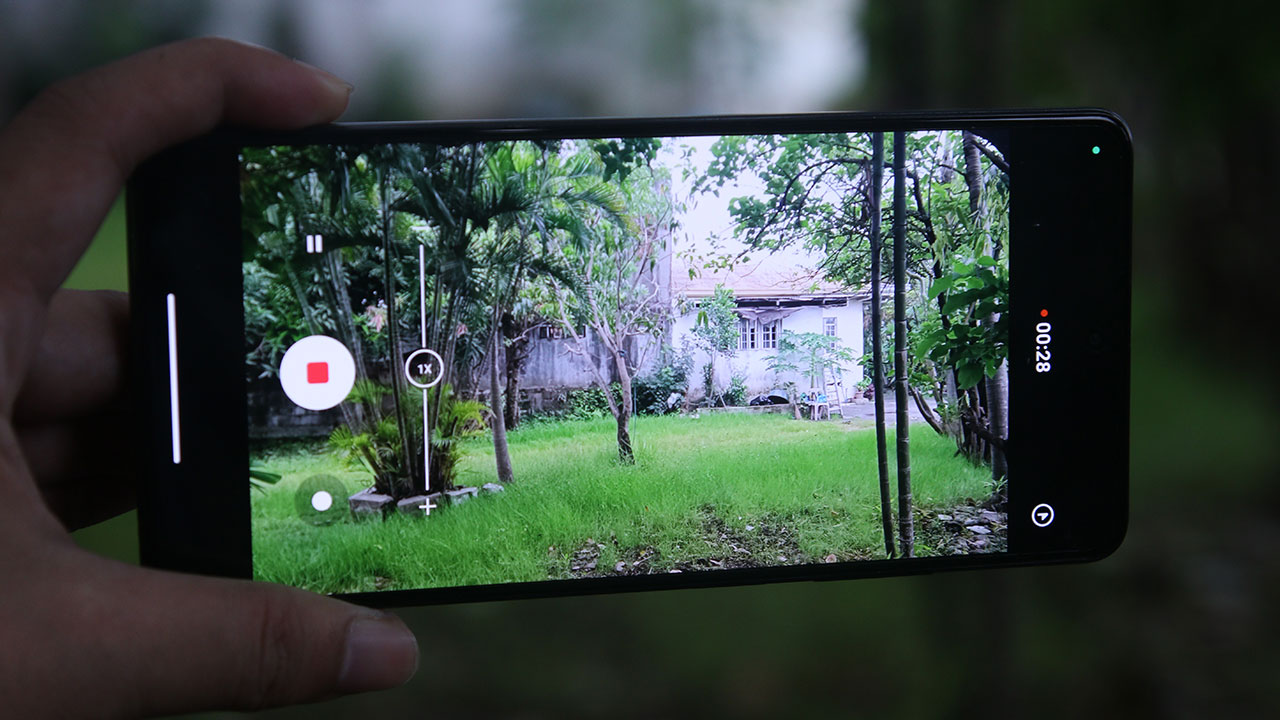 In terms of video recording, it can shoot videos up to 4k@30fps and 1080p@60fps, and of course 30fps. Slow motion is also available on this device and you can shoot 1080P@120FPS in slow-mo. If you switch to 720P resolution you can max your slow motion FPS up to 960.
SPECS, PERFORMANCE & BENCHMARKS
Moving forward to its chipset, it packs an octa-core MediaTek Dimensity 1080 SoC chipset. This chipset comes with good upgrades from its predecessor, and it offers 5G support and a nice upgrade to camera performance. It has 128GB of internal storage, and 8GB of RAM which can be expandable. As for its software, its OS is MIUI 14 paired with Android 12. Since it is a new device, we expect it to receive a future update to Android 13 in the coming months.
As a daily driver, the Redmi Note 12 Pro 5G actually performed well. Whether you are browsing your social media, gaming, using it as an office device, or even watching shows on Netflix. Multitasking is also not a problem thanks to its expandable RAM. If you are not satisfied with the 128GB storage, Redmi also offers another variant that has 258GB storage, but it will cost you additional money.
As for gaming, HyperEngine 3.0 gaming is a good enhancement for a snappy gaming experience. With its 6nm architecture and OLED display, expect the battery to be efficient. We tried playing different games on this device and so far we haven't encountered any frame drops or stuttering. Games like Genshin Impact performed decently with about 45 to 50 FPS and somehow smooth with no stuttering.
As for its battery, it has a 5000mAh capacity which is paired with a 67W fast charging. Juicing up the device from 0 to 100% took us about 57 minutes which is not bad. Having a 67W fast charging support is usually a good addition especially in this price category since some only offer up to 33W. If you are a heavy user the 5000mAh would definitely last you a day since its chipset uses a small architecture plus an OLED display. However, by the end of the day, you will still have to charge your device. But if you are one of those who rarely use their phone then the Redmi Note 12 Pro 5G can definitely last up to 2 days.
CONCLUSION
Overall, Xiaomi Redmi Note 12 Pro boasts an outstanding performance on camera and gaming. Aside from that, the spec sheet it offers is packed for smartphone users. An AMOLED panel with a 120Hz refresh rate, MediaTek Dimensity 1080 SoC chipset, and support for Dolby Vision and 5G connectivity. It still brings the same flagship killer vibe that the Redmi Note series usually brings to the market.
Redmi Note 12 Pro 5G is priced at Php 16,999 for the 8GB and 128GB internal storage. They also offer a higher storage variant which is 8GB/256GB and it is priced at Php 17,999. Some would say that the Redmi Note 12 Pro 5G is overpriced, but honestly, the specs that it offers are justifiable. Having a decent camera sensor that can deliver good quality photos, an impressive display, plus a 120hz refresh rate and 5G support. Despite it running on Android 12 out of the box this can be resolved by upcoming updates.
---
Read More Articles Here