With the release of the realme 10 late last year and the pro variants of the realme 10 last February, realme is still at the top of its game, with them putting out devices that are sure to sell to the masses due to the specs that it offers considering their price tag.
Now, they have just released the new addition to their C-Series which is the realme C55. The phone is powered by Android 13 with the most recent Realme UI. The smartphone also stands out from the rest of the line since Realme has added the dynamic mini capsule which is inspired by iPhone's dynamic island so that they can provide Android users with a similar experience. Would this be sufficient to make the Realme C55 a wise purchase? Let's dive in and take a look at what this device has to store for us.
DESIGN & BUILD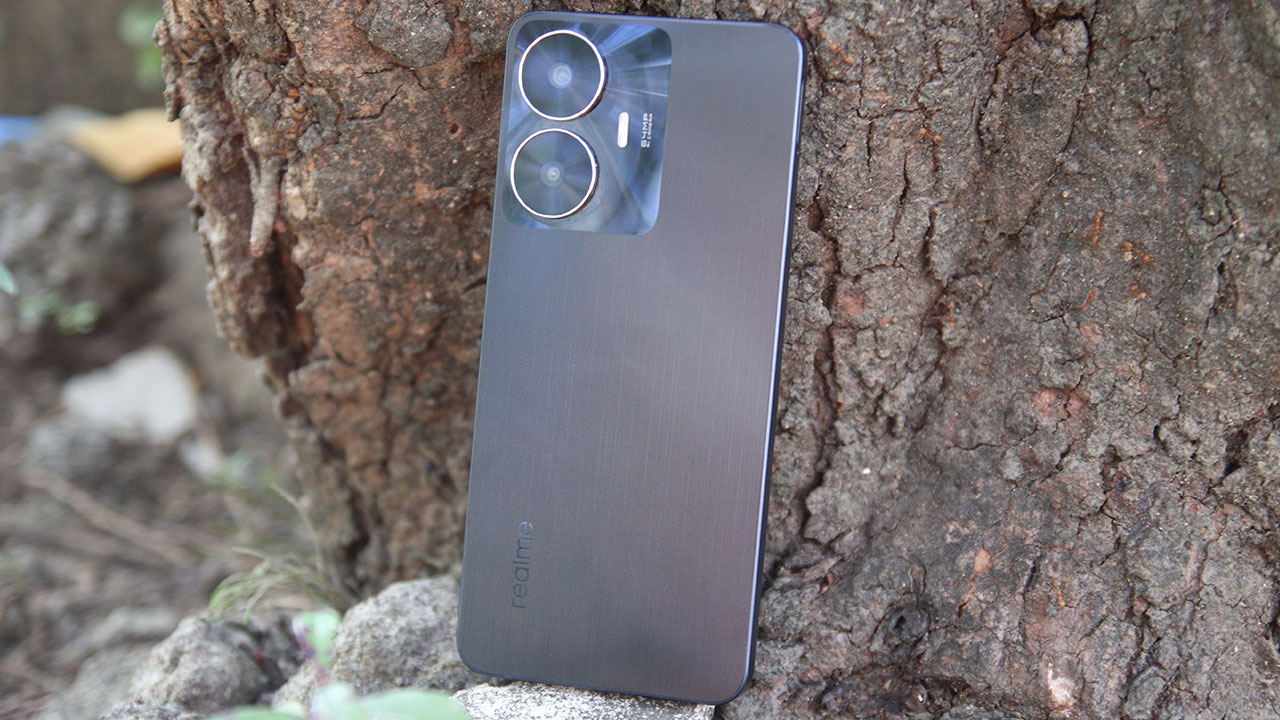 Realme is one of the brands that does its best to offer the most out of the consumers' budget restrictions without sacrificing the device's design and look. The realme C55 comes in 2 color options- Sun-shower and Rainy Night. What we have here is the rainy night variant, and we love the simple aesthetic of this colorway.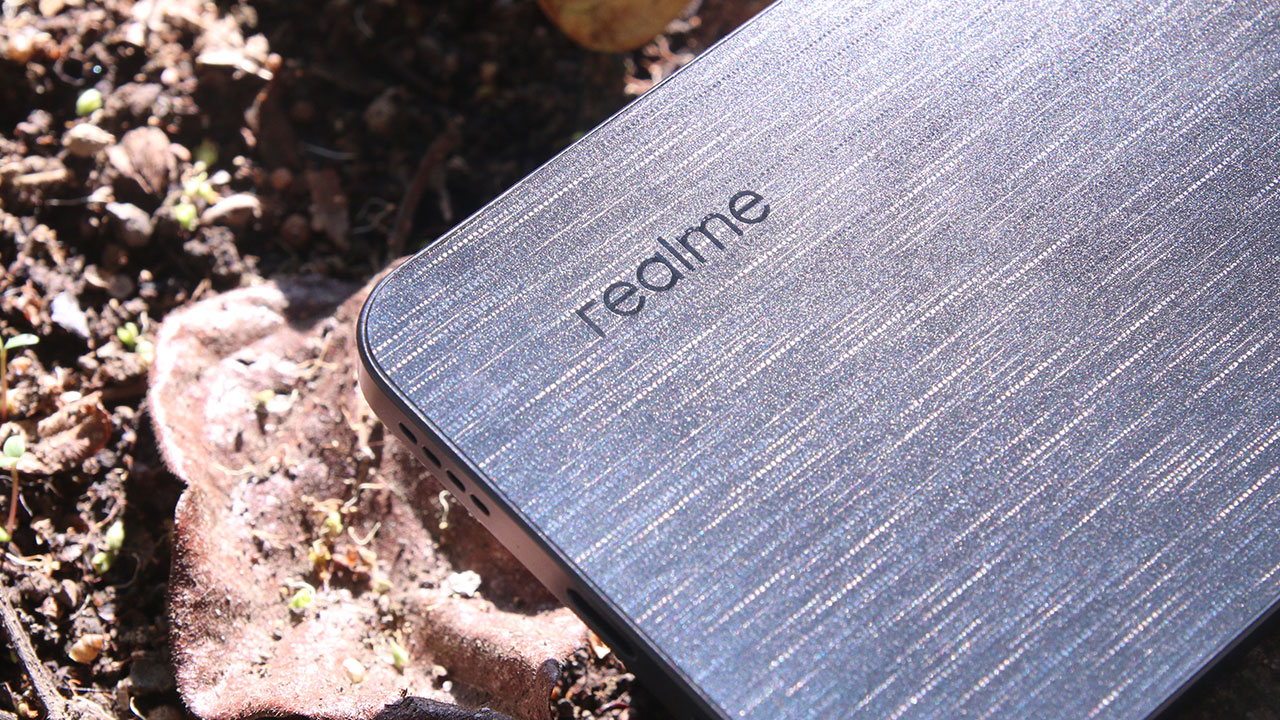 Realme drew inspiration from nature for the back design because it has 50,000 light particles that resemble raindrops and a rainbow when viewed through a vertical microscope lens. The feel is comfortable and it has grip thanks to its texture. You won't have problems with the device slipping out of your hands.
This slideshow requires JavaScript.
Moving on to the frame, it has a side-mounted fingerprint scanner integrated with the power button, which is located on the right side beneath the volume rocker. The sim tray is located on the left side of the frame, and it offers two nano sim slots and a dedicated slot for expandable storage. The device's top frame is empty, while its bottom features a speaker grille, USB Type-C port, microphone, and headphone jack.
DISPLAY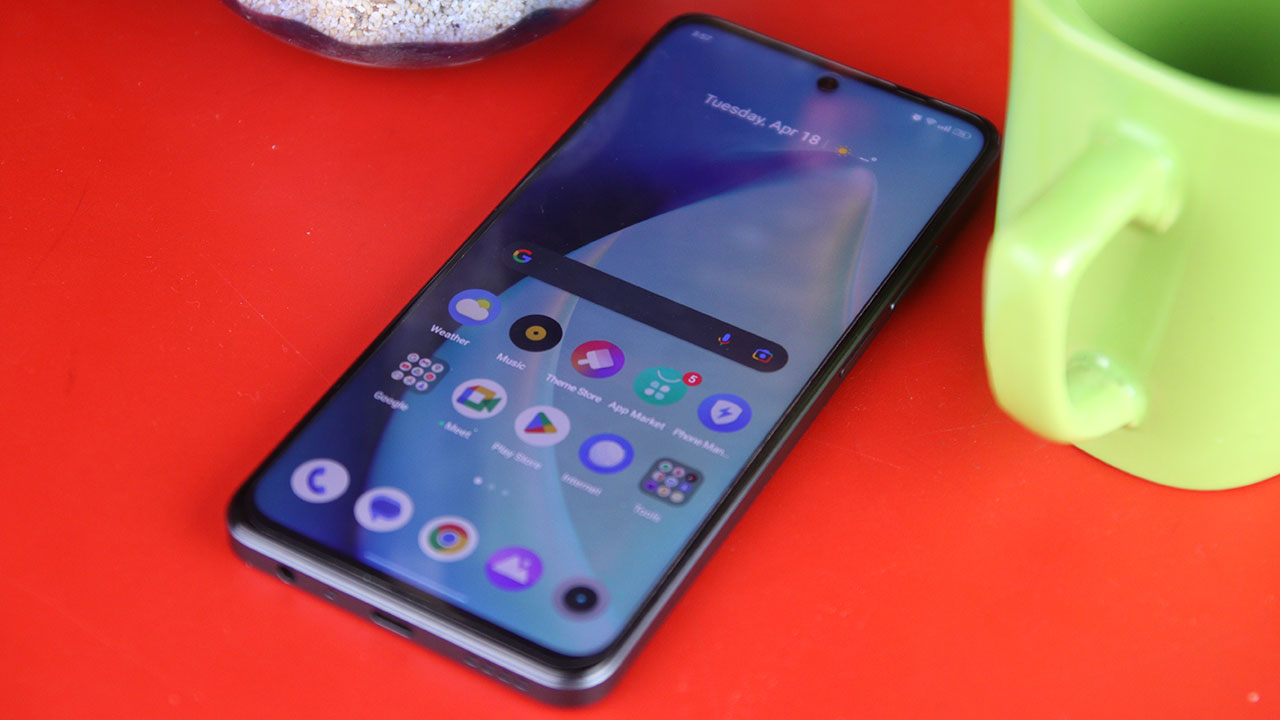 One of the most important aspects of smartphones is their screen. The realme C55 display has a 6.72-inch FHD+ display with a 90Hz refresh rate. This is the first C-Series display to boast a 90Hz refresh rate, and you can tell when using it since the images look smoother, crisper, and more realistic. Using it out in the sun won't be much of a problem since it has a decent screen brightness that goes up to 680nits. The response time of the display is quite good because of the 180Hz touch sampling rate. However, they could have opted for an AMOLED panel display to make it more competitive.
This slideshow requires JavaScript.
In terms of display settings, realme C55 has an adaptive feature for its refresh rate so you have to choose from a standard 60Hz or a full-on 90Hz which will most likely drain your battery faster than before. It also has a dark mode feature that has a scheduled switch. This will automatically switch from light mode to dark mode based on your preferred settings. Screen color mode and Eye Comfort are also available on its settings along with the display size.
CAMERAS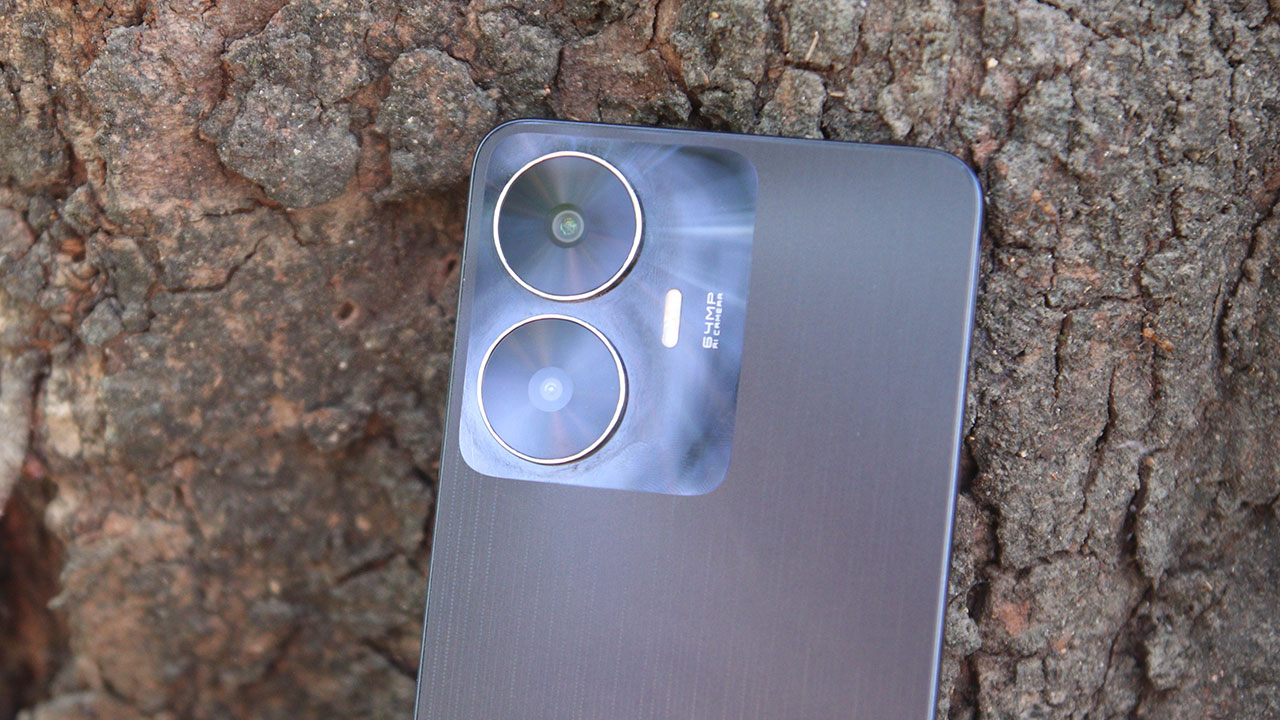 Now, let's move forward to its cameras. Over its back, it packs 2 huge camera lenses: a 64MP primary shooter and a 2MP B&W lens. It is also the first C-series device to feature a 64MP sensor used on the realme GT Master Edition. It doesn't have much gimmick when it comes to its cameras, and it is more of a straight-to-the-point shooter.
This slideshow requires JavaScript.
Daylight photos are sharp and detailed. However, it needs help adapting to different exposures. There are times that highlights are blown out and times that it is balanced. It does offer good color reproduction and sharpness, but it has deep blacks and shadows, which are not suitable if paired together.
This slideshow requires JavaScript.
Indoor photography is good especially if you have decent lighting. Its subject is detailed and the sharpness and clarity are great especially if you turn on HDR mode and chrome boost which adds more sharpness to colors.
This slideshow requires JavaScript.
Shooting photos at low light with its night mode took about 3 to 4 seconds before you can move the device and the results are pretty decent. Colors are enhanced with fairly decent exposure and balanced color distribution. However, sometimes outputs have blurry edges but all in all, it enhances the lighting of the low-light photo.
This slideshow requires JavaScript.
The portrait mode of the realme C55 is good in terms of colors and sharpness. Aside from that it captures a detailed subject that is on par with higher-end smartphones. The only downside to this feature is it has an inconsistent subject-to-background separation.
This slideshow requires JavaScript.
As for selfies, the 8MP shooter has some good and bad results depending on the situation. If a photo is taken against the light without the HDR turned on, the highlights will tend to blow out. However, this is not always the case since there are times that without it having HDR the result is balanced. As for colors, it has a true-to-life skin tone with sharp details and crisp colors on the background. Although there are times when the results are over-sharpened. But all in all, for an 8MP shooter it outputs decent and Instagramable selfies.
As for video recording, it can shoot videos up to 1080P@60FPS with 10x zoom. You can apply different filters to make your videos cinematic. Slow motion is also available but there are no options on what resolution or FPS the video is being captured.
SOFTWARE & PERFORMANCE
With the camera portion out of the way, let's have a look at its chipset. The Realme C55 is equipped with the most recent Realme UI 4.0, which is based on Android 13 and features intuitive iconography, a ton of free themes, and several customization possibilities. Although the UltraBoom speaker claims to provide an immersive audio experience, the audio needs to improve since it lacks depth and personality.
As for its hardware, inside the realme C55, is an Octa-core MediaTek Helio G88 chipset. This chipset is good for both gaming and multitasking. It is much easier to handle tasks and navigate the screen due to the 8GB of RAM which is expandable up to 16GB. Storing photos and files is also not a problem because of the whopping 256GB of internal storage. If that is not enough for you the dedicated slot for expandable storage can go up to 1TB which is pretty much overkill for a smartphone.
This slideshow requires JavaScript.
In terms of gaming, we tried a bunch of games like higen and Genshin Impact, and the device performance was pretty much decent. Just let the phone rest after a few hours of gaming since there are times when the device tends to heat up. We received at least 38 to 42FPS in low settings. As for benchmark results, the result we got for both GeekBench and Antutu benchmarks shows good numbers which are great for a budget-friendly smartphone.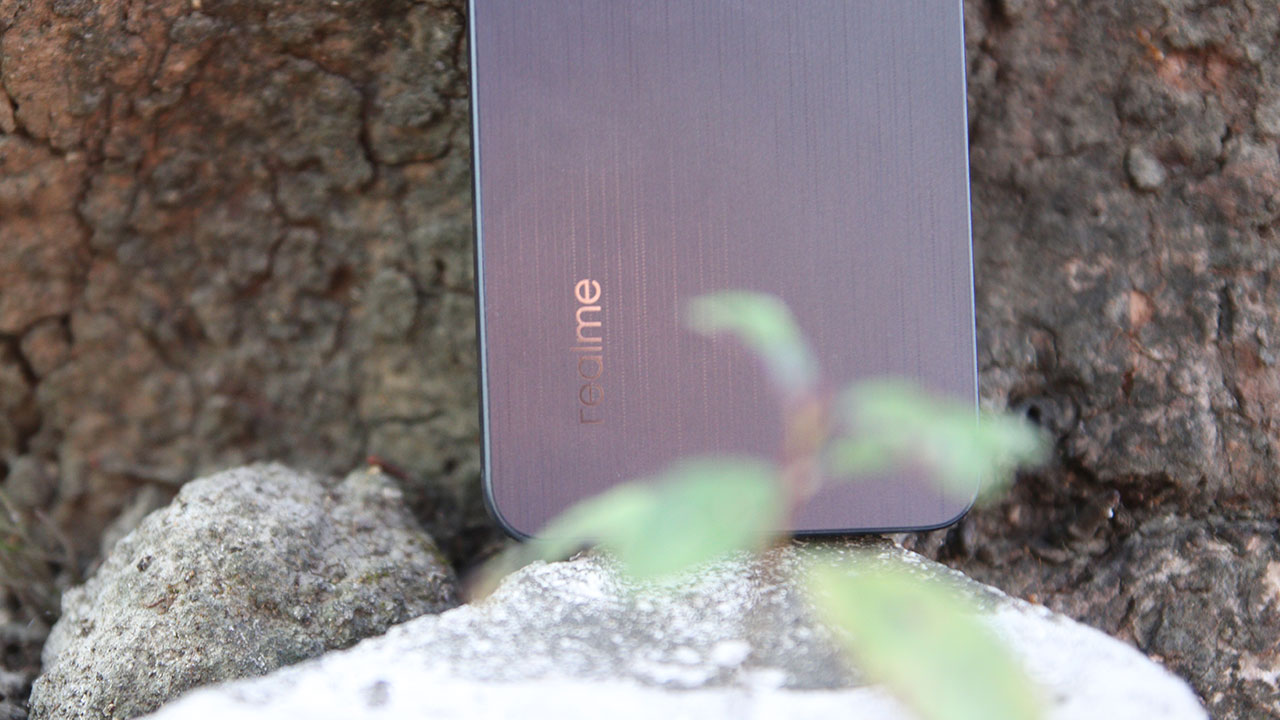 As for its battery, the 33W fast charging that comes with the Realme C55 is one of its advantages. The battery has a 5000mAh capacity, which is also big. Juicing up the device from 0 to 100% took us about 1 hr and 8 minutes which is good for a 33W fast charging. Also, you get Bluetooth 5.2 connectivity and dual-band wireless access using Wi-Fi 5 but not Wi-Fi 6. NFC and GPS are both accessible. The latter, however, is market-dependent; therefore, confirm the phone's specifications with the merchant you plan to buy it from. From a fully juiced-up device, it can last you a full day if you are a casual user. 33W charging is good enough for a 30-minute charge if you are always on the go.
VERDICT
The Realme C55 is priced at Php 10,999 for 8GB of RAM and 256GB of storage and Php 8,999 for 6GB with 128GB storage. This is probably the best value C-Series smartphone realme has put out, although, there are still some minor setbacks. In terms of advantages, the stylish look, 64MP main shooter, Android 13 OS, and 33W fast charging are really good selling points, but in terms of display, AMOLED would have been the best choice. I mean, I would prefer to have an AMOLED panel instead of a 90Hz display. I am not saying that 90Hz is not good but if you are not that into gaming but use your device for entertainment use only, then AMOLED is clearly the best choice. They could have also used a different sensor instead of the 2MP B&W lens. But all in all, considering its price, Realme C55 can be one of the best options if you are looking for a feature-packed budget smartphone that carries lower mid-range specs and good overall performance.
If you do have a higher budget and are looking for a realme device that is in the mid-range or flagship category check our realme price list 2023. 
Read More Articles Here